A prelude post! I'm looking forward to these two's wedding at the beginning of September!!
Last fall we had a lovely couple shoot in Edworthy Park! The weather was brilliant and let their love shine!
Edworthy Park is a favorite place of mine. Next to the inner city, it has many quiet pathways near the river and the smells of deep pine and spruce forest do a very convincing imitation of being in the mountains. Sunnier parts have aspen groves that turn brilliant yellow in the fall!
On to these two: A classic contemporary love story.
The stage is set on a computer, much like the one you're using now! They met through OKCupid, with Alex finding Heather. Finding a match of over 80%, Alex was intrigued by Heather's very carefully designed profile. Dates at the science center, rock climbing, and cross country skiing followed and it became obvious that they were on to something special. Heather's dog Daphne's seal of approval was the final hurdle, and they soon couldn't stand to be parted.
Alex and Heather lived at different ends of Calgary, and before too long tired of the 60km round trip that they made far too often. After a discussion of important preferences (including whether the toilet paper goes under or over!) they decided to move in together, and make the house truly their own.
With Heather providing the creative genius, and Alex providing the grunt work, they tore out and completely rebuilt their bathroom and kitchen. After six months of living in a construction zone, they had done it. Heather had the bathroom and kitchen of her dreams, and Alex was an expert at tiling (having installed about 18 million of them!) Of course, you don't just build a bathroom and kitchen for anybody, and Alex knew he'd need to put a rock on it.
Enlisting Heather's sisters help, Alex set out to find the perfect ring for Heather. Looking for something as unique and quirky as she is, he found it with a mystic topaz. But Heather had somehow gotten wind of Alex's intentions, and so a brilliant scheme was required to catch her by surprise. Fortunately, Alex had just such a scheme. It began with heading into the mountains for a romantic weekend getaway at Chateau Lake Louise. Upon arriving at their destination, Heather knew something big must be coming. From the lakeview room, the champagne and strawberries, fancy dinners, room service bringing breakfast in bed, a romantic walk around the lake, a couples massage, this trip had it all. All except a ring, as Heather discovered when they drove home with no ring on her finger.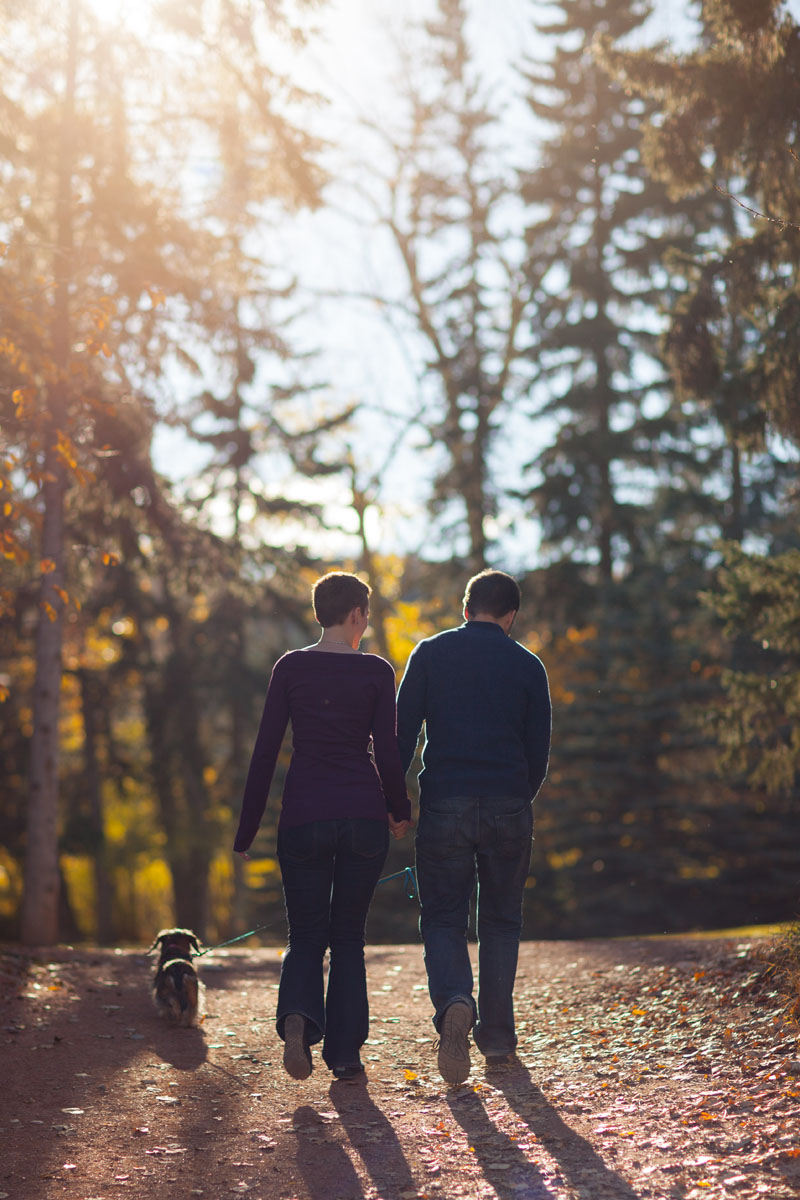 This was, of course, all according to plan. Alex endured an understandably grumpy Heather upon their return to Calgary, and the next day suggested going out to a cafe. Nothing special, he said, just a simple cup of coffee. But it was something special. And so, one year to the day and to the very hour, Alex proposed at the same cafe, at the very same table, where they first met. Complete surprise was achieved.
Fast forward to today, and we're all super excited for this upcoming wedding at Heritage Park! There's nothing that gets me pumped up like a special wedding, in this case, one that's retro as all heck!
Keep watching for the wedding day blog, and I hope you're as excited as I am!